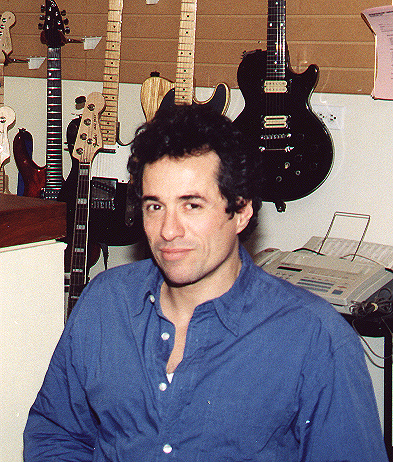 It's with great sadness that I say farewell to my friend, Bill Bennett.

Bill died Tuesday night(Oct 7) from head injuries he received in an automobile
accident on Fri. Sept.26.

Bill helped enrich my life and those of many others, through his work
on the Off Wall Street Jam.
I'll miss his wit and unique perspective on life.

Bill, I love you.


---

My condolences to all who loved him.
I'll let this page be a bulletin board, for any who would like to post something.
Index:
---
Message posted 27 October:
I'm not, and never have been a member of the Off Wall Street jam, but I was fortunate to play with Bill at the A&M Roadhouse jam on a few occasions. Bill always struck me as a nice guy and even invited me to come jam over at the OWSJ.
From all the postings I've read, Bill clearly left an indelible mark on the people around him. It is with great sadness that I learned of Bill's untimely passing, and I know he will be greatly missed by myself and everyone else he has touched in his life.
Mark Shields
---
Message posted 24 October:
Bill was a Great Musician, Teacher and Business Manager. A man of many talents.
He will Greatly missed !!!
"Break on through to the other side"
Ben Smith - The Difference

---
Messages posted 17 October:
I was sitting on the train and saw the news that a NYC guitarist had died. The first thing that popped into my mind was..please NOT Bill!!! Who else would be referred to as a NYC guitarist? As I read on and saw William Bennett's name I let out a wrenching NOOOOOO!! I felt like I was feeling the pain of every musician in the City at that one moment in time.
I didn't know Bill nearly as well as many who have expressed their sadness here, but his impact on me was a great one. He helped get me playing again; and that is a gift that I'll have forever. The OWSJ is a place to go and play; a place I felt welcome; a place where my bandmates and I could shut the door and for that 1 hour have just pure fun. I haven't been to the OWSJ for a while but it remains a part of me in a profound way.
Bill, I'll always remember you as a VERY cool character. I thank you and will miss you. Ken Frank


---

I played in a band with Bill - the Motown band Fuzzy Dice. We had a ball. Bill was generous with his time and energy and always gave his best in whatever band he played in. I have since begun playing in an "outside" band. It was Bill who got me back into making music. I will never forget the first time I met him and how comfortable he made me feel. It was through this comfort that I got the courage to "just express myself". He told me I was good, I believed him, I am good!

Anita Bing, Singer/Guitarist
Formerly of Fuzzy Dice
---
Messages posted 16 October:
Bill Bennett was truly a person who followed his passion, and more than
anything else, that is the legacy of a life well-lived. Even more, his
passion affected the lives of many others in a positive way, providing a
venue for people to express their creative sides and to believe in the
value of their personal expression.
I am grateful to Bill for giving me an opportunity to be a musician
again and to participate in a community of like-minded people. Although
I have not been a jam member for some years, I greatly value the time I
did spend there and the people I met there through Bill.
He will be missed by many.
Michael Esterowitz


---

I picked up my first guitar at age 12. I bought my first electric guitar when I turned 40. I met Bill and joined the Jam earlier this year at age 49 and soon after performed on stage for the first time, in my first band at the Orange Bear. As Bill introduced the band, I looked into the crowd and thought wow, this is great. Thanks Bill, and keep the music playing. All my love to you, your family and friends.

Jeff Schwartz


---

I met Bill about 2 years ago.After meeting him on that quiet afternoon and hearing his views on the
Musical life I rejoined.I played together with him on a couple of projects.I was always looking for
the perfect band.He would always say"You know you're looking for the perfect girl to take to the dance".
He always respected me and gave me as much room as needed to be happy musically.I last saw
and played with Bill days before the accident.We were working on a another project which appeared
to have all the right ingredients for the perfect band.Last song we played together was Crossroads.
I remember how great he played that tune and how at peace he was that day.
Richard Brody
---
Message posted 15 October:
I spoke with Bill the day of the accident. I was in San Diego and was
calling him to find out how the jam did the night before at Le Bar Bat.
He said it was a great night with a great turnout. When ever I would go
out of town for any period of time I would always give Bill a bunch of
nights to do the Off Wall Street Jam. I knew I could always trust Bill
when I wasn't there. I never had to worry because Bill was "the master"
of always doing the right thing. The last thing I said to him on that
Friday morning was that I appreciated everything he did for me. Bill
replied back "and I appreciate everything you do for me". That's the
last communication I had with Bill. That was last thing we said to each
other. I hung up the phone and thought to myself "what a great guy". My
sadness is overwhelming. Bill was the man.
Pete Fogel
Booking Agent
Le Bar Bat
---
Messages posted 14 October:

My love and words for Billy..
I was not a member of The Off Wall Street Jam. I am someone who knew Billy
for many years, when no one called him Bill. He will always be Billy to me. I am
his ex Mother in Law, Margot's mother, whom he was married to for nine years.
Margot and Billy remained friends and confidants after the divorce. Theirs
was an essence relationship, both sharing an honesty at the deepest level.
I first met Billy when he was a fifteen year old skateboard daredevil and
Margot's friend. He carried his skateboard everywhere. Even then he was
beautiful, a beautiful boy who became an aristocratically beautiful man. Billy was a
person of effortless class, an innate sense of personal integrity that irritated
many who couldn't get a handle on manipulating him. He was strong, but
tender. Tolerant but rarely fooled. That is why I want to say these things:
I sincerely hope that Billy's legacy will not be abused. That no one will be
exploited or misled as proprietorship of what he built is delegated and
divided. Billy, as founder of this incarnation of The Off Wall Street Jam, should
not become an icon, as he was an iconoclast.

Actions and steps taken in his name in the future should be watched
carefully, as much can happen under the aegis of Billy's memory that could veer far
from the genuineness of his goals, and the past examples of his intent.
I know what a hard and careful worker he was, a perfectionist for the goal at
hand, because he cared. His vision was inclusive of people; Billy was a
leader, but never for the sake of personal power or profit as ends in themselves.
Billy had long term goals for The Jam, to build slowly and steadily with
credibility. Only time will tell what the new Jam will be. Can the vision of true
intelligence and care that was Billy prevail? Or will a special haste take over,
using patterns that Billy laid down, but without the human foresight that was
his hallmark.
Billy valued community, and I think special projects with youth would have
been on his agenda. I hope the new Jam keeps this in mind for the future. Billy
did fulfill a legacy, this chapter two is yet to be seen. Call this a caveat
if you will, but as this is a new beginning, I think all you Jammers should be
aware as good musicians are, of notes that are true, clinkers just happen, and
false riffs that can take the music off course. Billy was always more than a
follower, and as a man of conscience and an iconoclast, I think he would like
you to remember that you were the Jam, he the master tuner..but you always had
a say.
Thank you for listening...
Florence


---

My name is Barry. I worked for Bill for a short time back in 1999 (March-June). I will say, Bill wasn't the easiest to get along with, me and Bill had our share of arguements. Despite all that bullshit, Bill hired me March of 1999 to work for him. He taught me how to run a studio, how to set up a stage for a showcase and let me conduct some of those guitar circles at the Jam, he even gave me a chance at being a session musician. I had no experience in any of that stuff and Bill knew that, but Bill knew I was a musician and a music lover and gave me a chance. Even though there were times I wanted to walk out on him I kept coming back. I don't want to sound like i'm putting Bill down, i'm not! The last time I saw Bill in person was in October of 2001, a month and a half after 9/11 happened. I found out he had an office with one studio in it on the 7th floor in the "Downtime" building. I was working at "The Studio" on the 3d floor at the time and decided to drop by and say hello to Bill, see how he was doing after 9/11. Although our conversation was brief, it was a good one. He asked if I was ok and asked for my father. My father, Ira used to be a member of OWSJ and Bill knew my father for a year or so more than me. There was no tension between me and Bill that night in October '01 and we wished eachother well, and he even asked me to come by the Jam sometime. I never made it. I emailed him about a year ago, made small talk, asked how he was, wished him a happy holiday. Bill responded the next day and wished me the same and again, told me to drop by sometime. Its amazing, one minute your alive and the next, your gone. Bill taught me alot about how to deal with people, how you run a studio. He knew he got to me, but there were no hard feelings. In hindsight, Bill was just trying to get me to toughin up a bit, not to take shit from anybody. I wish I made the trip to the Jam to see him again. My condolences go out to Bill and his family, from my family & me.

~Barry Dob


---

To Bill's family, friends and jammers,

My deepest condolences to everyone whose lives Bill touched. Bill was charming, inspiring, encouraging, and selfless. He awakened the musician in so many of us. Bill was passionate about making our musical dreams come true.

Bill, you were one in a million. Hope you're jamming and/or organizing The Great Gig in the Sky.

Bill, you will be missed and cherished in our hearts forever.

Suzanne
Diva Blues


---

Thanks....

I joined the jam over four years ago and let my membership lapse. I was
planning on rejoining this fall because singing at the jam and then
performing on stage had brought such joy to my life and I'd missed it
terribly. I am grateful to you Bill for giving me the opportunity to
connect to that part of my soul.
Alexia


---

Reading the Times obits and coming across an "The Immortal Primitives"
reference was surreal, to say the least. My brother, his friends, and I
would see the Primitives on L.I. over twenty years ago at Spark's in
Huntington, among other places.
They were great. These guys would do three wardrobe changes during
a normal club gig. The caveman get-up was hilarious and the best. I
can remember Bill (Billy) being very intense. He brought that intensity
to the stage. Unfortunately, the band never got the recognition it deserved,
though they played many awesome shows.
I have been working downtown for just as long, and feel terrible about
Bill's untimely death. From the postings, it's clear he was loved greatly
and will be truly missed. I wish I had known about his involvement with
the OWSJ. He must have a great love for it and its' members.
Ray Davies sings in Where Are They Now? from Preservation: Act 1

I'll sing a song about some people you might know
They made front pages in the news not long ago
But now they're just part of a crowd
And I wonder where they all are now.

I wonder what became of all the rockers and the mods.
I hope they are making it and they've all got stead jobs,
Oh but rock and roll still lives on,
Yeah, rock and roll still lives on.

It a cliche, but it's true. He was doing what he loved
and making other people happy.

Mike Becchina


---

I did'nt have a close relationship with Bill, but I liked him alot;
he was generous, warm, considerate, and a hell of a good musician.
I really appreciated the phenomenal job he did operating the Jam, and
particulary, all of the many times he helped me.

I will miss him.
Jim Lippman


Messages posted 13 October:

I adored Bill. When I think of him now I laugh and cry all at once. I laugh through tears when I think of him sitting behind his desk with that wry smile on his face. And I laugh when I think of him turning up my keyboard right after I'd turn it down. I smile when I think of him singing in my husband's REM band. I remember with a heartache the night I met him at the Bitter End on July 11, '97. Somehow he always seemed to know exactly what was going through my mind. He made so many people feel special. And he was a character who makes us laugh even now. Bill made our dreams of being in bands come true. We will get misty-eyed everytime we think of him. G'bye, Bill- - we'll never forget you.
Love, Linda Bold


---

When Bill Bennett phoned to tell me that he had taken over the Off Wall
Street Jam, I joined again and resumed jamming on Saturday afternoons. I
also brought my band, The Love Handles, in for rehearsals. My early
impressions were that Bill was a little too strict for such a fun
environment, but I soon realized that he needed to be tough and precise
for the Jam to survive. Captain Bill ran a very tight ship. He became a
consummate professional in his unique niche in the music world.

He was also a true amateur in the best sense of the word – someone who
does something for the love of it, not for the money. Bill's enthusiasm
for performing live music is what powered the Jam. His discipline and
relentless hard work enabled all of us to participate in the joy of
jamming, forming bands, and performing. He was a gentleman and always
introduced members to one another, and so built a community.

Bill and the Jam were also part of the downtown community, and Bill
experienced the horror of 9/11 at extremely close quarters. I remember
him describing the wave of debris from the collapse of 7 WTC as looking
like something you'd see on the north shore of Maui, only a lot more
menacing. Caught right in the red zone, Bill had to re-locate the jam to
midtown. But he was anxious to restore his space at 47 Murray and bring
life back to downtown Manhattan. He was eminently successful in doing this.

I admired Bill for his perceptiveness, wit, and brutal honesty. After he
and I got to know each other over time, I saw that underneath Bill's
no-nonsense exterior, there was a warm and caring human being. He cared
greatly that jammers enjoyed themselves and that they progressed
musically and professionally. Without Bill, I wouldn't have played or
performed very much at all, nor would I have met some of the great
people I did on Murray St. I will miss him greatly. Thanks once more,
Bill, for resurrecting the Off Wall St. Jam and giving us the
opportunity to have so much fun.

-Allan Tannenbaum

Jammer since 1993


---

The 1st time I saw Billy ,It was either in Miss.Dinhoffers home rm. class at Wagner Jr.H.S,or when the cops we're chasing him around the school yard because
he had pills.Next thing I knew,It was the 1st time I smoked hash,we were in a staircase at lunchtime &
when I couldn't take anymore ,he was blowing the smoke in my face.We were 14.
I had the privilege & pleasure of his friendship ever since.
I could write a book on everything since then,but out of respect to him,I'll keep it as brief as he'd like.
Besides,almost every time I started with our"war stories",he'd give me a look & say "c'mon,you know I don't like talking about that".
The fact that we & our friend Tommy made it to 49 is like a Trifeccta.
That Billy became the man he always wanted to be makes me so proud to have known him.
Reading what so many have written,seeing so many people who loved him in such pain at his loss,
I know Bill's up there,his Ego more gratified than ever.
The last time I saw Bill (as he preferred to be called,I didn't care,I'd call him Billy anyhow)
he was playing at "Whose on 1st"on a Sun. about a month ago.I went to see him,we went for pizza & spent maybe
30 mins.together.Why I told him "You know I Love you" ,I really am not sure.It's not really something you have to say
to someone who has known it all along.I thank God that I did.
Billy,I hope we get to be young & dumb again sometime,somewhere.
It was so much Fun.Even though you were a pain in the ass 1/2 the time,
I miss you so much.
All my Love Always
Sandy Pitofsky

p.s.-Thankyou to everyone whose message I've read.Your love for Bill
makes it easier to accept his passing.Very few people earn this kind of affection
in lifetimes twice the length.


---

Billy came into my life in 1996. I had just started seeing Greg, our first date was at the Bitter End where I met and saw Billy play. I was launched into a world of music, at once glamorous and fun. I knew of the challenges that confronted Billy when he purchased the Jam in 1997. Greg, Billy and I talked at length about it and we were thrilled that he had the courage to turn away from a predictable income stream to pursue something he loved.

Billy and I went on to meet and plan Greg's fortieth birthday party. We had it at the Merc Bar. It was a real success, Billy and I had it professionally taped. Billy was MC- very slick. He was terrific, adding a lot of color and fun to the night with his dry wit. The evening was topped off with Full Circle playing a number of their tunes.

As time went on, we celebrated with Billy and others, small renovations and new equipment for the Jam. An improved website and real branding of the concept began to take place. I knew that he was really making it happen when two colleagues of mine at Cantor who played drums and guitar said that they had already joined the Jam when I mentioned it to them as 'the place to go' if you wanted to play.

Most memorable of course to me, is incredible level of support that Billy provided to Greg during the 9.11 aftermath. He lifted Greg to another place. The hours he spent playing with Billy and the Bones were a welcome release from the extraordinary sadness that Greg and I had endured. The loss of friends and my condition, so uncertain for so long, permeated our lives. How fortunate to have a friend like Billy providing a lifeline to a happier place.

I saw Billy briefly in the hospital last week. My lasting memory of him will always be the last time that I saw him at the Red Lion for an early gig in May of 2001. I came, cheered them on, I had a bite to eat and left. Dine and dash- I never paid the check, Billy did. Billy and I would joke about my owing him a meal. I owe you much more than that Billy. In my book of life, I commit my strength and conviction to taking advantage of the gift of life that I have been given. I am empowered by what you have done for me and all of us.

You are music for my mind. I'll love you always, Billy.

Lauren Manning


---

On September 25th, before going on at Le Bar Bat for the "HITSVILLE" set, Bill and I were hanging out in front of the place. A rare event of a parking spot opened up in front of us and Bill asked me to stand in the street and hold the spot while he gets the van to park there. I remember thinking how rickety the van was when it came toward me. I wanted to say to Bill "why don't you get rid of this old shity van and get something new and safer," but I didn't. I honestly thought it would offend him. Thinking of what happened to him the very next day just rips my heart out. What can one say. Words are futile. My condolences to all who loved him. I lost my friend.

Albert Treadwell, drummer, "HITSVILLE"




Messages posted 12 October:


When I first met Bill, I hadn't played with a group or performed in public since my last high school "battle of the bands." He approached me on my second visit to the Off Wall Street Jam, way back in 1993, and within a few weeks we were performing together at the Lone Star Road House in the first incarnation of a band we decided to call "The Rolling Bones." I'll never forget the joy and exhilaration I felt that evening or the man who inspired me to get up there give them my best.

The Bones had a shaky start. I still have a recording of our second, rather rough sounding, performance at the Bitter End with new members, Beth Dunn, Mike Macchia, Greg Manning and Marie Panella. We needed work and work we did under the guidance of Bill Bennett. But, the Bones were more than just a band. I'll always remember the rehearsals and parties at Bill and Margo's place on West 15th St. We really did have one hell of a great time.

Bill was a purist and a perfectionist. He wanted the songs to sound as much like the original recording as possible and if your timing was off on a vocal part, he'd have you do it 12 times in a row until you had it right. But, I'd have to say, looking back, that I think this paid off. If you listen to a recording or watch a video from a 1995 performance, it's just astounding how much better we got as musicians and performers. And, that was in large part do to Bill's knowledge of music and his leadership ability.

I was also fortunate to have performed with Bill in several other bands including the best Who cover band I've ever heard "Substitute."

Bill put the music back into innumerable lives and found his calling in a way that few of us ever do.

He will be missed and remembered.

Al Ronzoni (original lead vocalist of The Rolling Bones")


---

Billy,

You were so strong and reliable, on-stage and off. Unbelievable really.
Did you ever play a wrong note? Just like the way you lived your life.
You knew what you believed in and you didn't care if others agreed with
you or even liked you. It's no wonder you touched so many people in such
a profound way. It's no wonder so many people loved you.

You are an original. There can't be another Bill Bennett. Your band
mates could count on you for every song, every bass line. Guitar and
vocals too. Whatever was needed. You filled the need. You can not be
replaced. For all of us who mourn your loss, it is now our
responsibility to carry on your dream that the Jam should continue. We
all owe this to you.

When it came time to pass the mantle, you were the only person who came
to mind. As crazy as it seemed, from a practical or rational
perspective, I knew in my heart that you were not just the right person,
you were the only person to carry on the Jam. You were unique as a jam
member and even more special as the Jam owner. You rocked.

Of course, you were so much more. You would have made a great father. As
it turned out, you were a musical father figure for many many people.
Your encouragement, dedication, high standards of excellence,
consistency, reliability, your ability to teach, to reprimand and even
discipline when necessary-- those are the qualities of a real father and
you had all of them. I take inspiration from you.

Your strength and courage were never so clear as in the aftermath of
911. You chose to put the pieces back together, to build stronger ties
within the community. You never gave up even though it would have been
easy to. You believed in something, and the outpouring of affection
towards you proves that what you believed in is real. It is the stuff
that matters.

Your compassion and kindness was also a rare gift. When you invited Doug
and me for the 10th Annual Jammy Awards (actually I think it was the
12th, but who was counting!) it was more than an opportunity to pay your
respects to the Jam's co-founders, you made it an opportunity for
healing as well. You didn't have to do that but you did. Thank you.

There is a huge void down here, Bill. And all I can say is that we won't
let you down. You completed your mission here in a big and beautiful
way. And while it doesn't seem just, to have had you taken away from us,
it is now up to all of us to do our part to make sure that your legacy
lives on. And it will.

Thank you for making so much possible for me and for so many others.

God bless you, Billy

John Watts


---

Though I have only been a member of the jam for one year, I could tell that Bill's presence, personality and heart was huge. He gave it all for the jam, for getting people together to make music. I more noble cause I cannot imagine. I will miss him dearly.

Larry Schwartz


---

I was the original keyboard player for the Rolling Bones when I joined the Jam around 1992 or so. At that point, I hadn't touched an instrument in nearly 20 years, and had never really played music with other people at all. What I needed at that point in my musical development was a band situation in which there was a "take-charge" individual who could provide direction, constructive criticism, and most of all, leadership. Bill Bennett was the right person at the right time. Having performed onstage with the Bones is one of the most memorable experiences I've ever had, and I believe that Bill's contribution was essential to making it all possible. Jam on, Bill, at that rock-and-roll fantasy camp in the sky.

Beth Dunn

---
Messages posted 11 October:
The news of Bill's untimely passing is both shocking and saddening. Although we never became close friends, one thing was clear to me: he was completely dedicated to what he did. Going to the Jam weekday nights was a refuge, a place where we could forget about our hectic work day, just plug in and make our rock 'n' roll fantasies come true. OWSJ will never be the same without Bill. May he rest in peace.

It haunts me to wonder what Bill was thinking, planning, dreaming, just moments before the accident. How quickly everything can be taken away. This tragedy should be a reminder to all of us that every day is a precious gift that should not be taken for granted.

Eric Komar (No Static at All '00-'02, Tequila Sunrise '02--)


---

No words can express my feelings to all of Bill's family and friends upon hearing this sorrowful news. Bill and I worked together at FPG for many years. I had always enjoyed his quick, dry humor, the rock and roll trivia we played and his love for music. This past summer Bill and I bumped into each other on Canal Street. In our brief encounter we spent time catching up on the past couple of years that we haven't seen each other and talking about the future. Bill exuded such excitement and positive feelings toward the direction of OWSJ. Bill, the future is now! Go get 'em. Thanks for being a part of my life.

Howard Eskenazi


---

Bill,
You have made it possible for many of us to fulfill our dreams.
Thank you for your support and guidance in helping us to reach our musical goals.
Although you liked to be portrayed as a hard ass, you had such a kind and caring demeanor.
We will also miss your sarcasm and dry sense of humor.
You will be deeply missed!
God bless you!

Love always,
Illiana Santiago-Hubbard


---

There is something wrong in the universe today. Billy Bennett's gone.

I last saw him in the ICU at Bellevue, connected to all the familiar tubes and completely sedated. I'm thankful that I had the chance to say good-bye, though that's not really what I said. When I spoke to him, I told him that if he could make the meeting the next night, I'd be there. He couldn't.

Mostly I told him that I always loved him, and that he was always about music and friendship. I looked at his left hand, which had played so many notes, and I couldn't believe it might not ever play again.

Billy was a matchmaker and an entrepreneur, a friend and a musical father figure. I did trust him onstage and off. It's remarkable how many things he was doing and how many roles he was playing that meant a lot to me, and now that I'm thinking about all of them I wonder how I could have missed so much of it while it was happening.

I joined the Jam as a guitar player in Feb 1991 but I first met Billy in 1993, about eight months after I first picked up the bass to see how it felt. We wound up in a session together on a weekend in July. He was a fill-in guitar player with another guitarist and drummer I was in a band with. He knew everything.

I turned to him after the session and said, you sure know a lot of songs. We walked uptown from the Jam - the only time I ever did that with anyone - and talked for thirty blocks. I still remember the weather, almost every word of the conversation. He asked me if I liked to play Stones and I told him I didn't know Stones tunes but I liked the music and if he wanted to teach them to me, I was a quick study.

So we went to his apartment to watch the tape of the first gig of the Stones band. He wanted to replace the original bass player because he played the root notes to "Star, Star" rather than the bass line during the performance. I promised to learn the line, and I was a Bone, though the band didn't get that name until the next gig. So I am an original Rolling Bone.

Pretty much for the next ten years, through the Rolling Bones, the Bare Bones, Full Circle and Endless Circle, he taught me the bass, upgrading his assessment of my skills from fair to adequate to decent to good, and finally, this past year, to semi-pro. (He actually said "pro" but I declined, telling him that would mean I was at his level. He saw the point.) I made some real friends through those bands.

I think I've been less of a Jammer since 1993, more just a "Friend Of Billy."

When Billy was contemplating buying the OWSJ in 1997, Lauren and I took him out to dinner and we worked through the numbers. I urged him to do it. I told him there was no downside to trying, and the upside was that he might wind up happy for the rest of his life. That's how it turned out, though his life was too short.

He built the Jam up into something greater than it was before, because to him it was his life - not just a way station to the next serious music thing, but an avenue to happiness. Every studio (and stage) became an extension of his living room, up to and including sofas and soft drinks and fights between members of the family.

He was endlessly creative: the weekly bulletins (I remember thinking from the beginning how good they were), Dr. Sharpley and the "starving artist" program, monthly specials and the recent youth movement. He was endlessly dedicated: he brought the Rolling Bones to Cleveland for a second time in 2002 because I hadn't been able to make the gig in 2001. And of course all that music.

A friend once said of Charlie Watts, the Rolling Stones drummer, that sometimes it just made him happy knowing that somewhere, out there, Charlie Watts was. All of us drew great comfort from knowing that Billy was out there, somewhere, in every sense of those words. He took all of us out there, and brought us back in, every time.

He never really needed a lot to make something happen, and I prayed that a guy who made something from nothing, and did it every night of the week, would be able to do it again, this time on his own behalf. It didn't happen.

The man who was the source of so much happiness, the puppeteer of a microcosmic world of rock and roll and an emotional fountain of youth, finally died for no good reason of complications following blunt trauma to the head.

I feel the loss of happiness.

Not the presence of tragedy, but the loss of joy.

The only pictures I can find of Billy not playing show him with that calm smile, the one that told us he was in on the biggest joke of all, the meaning of life, and that he wasn't wasting a minute of it. There's a picture just like it at the top of this site, and there are probably thousands more. It still gives me reassurance, until I remember why it's there.

The Jam will survive - we'll do our best to make sure of that - but for now it can only be a monument. It's up to others to provide the soul, because the soul is gone. Billy was the gatekeeper, the man who made the choices that furnished the happiness for so many of us. I've tried to imagine who can infuse the Jam with joy, and it's hard to see someone doing it, though I pray someone will.

This tragedy makes clear how much Billy did to weave a protective cocoon, where some part of us could be born or reborn. The force of that protection was missing when I played at the Jam Tuesday night, gone from the slips of paper on the walls, the articles on the bulletin board, the kitchen and the desk and the musical instruments themselves. It turned out that we were leaving the Jam at pretty much the same moment that he lost his battle.

The collapsing towers of September 11 couldn't bring him down; it wasn't his time. This wasn't his time either. Just a few days after September 11, I went to a Jam session at the Jam north, and it turned my soul. A soul as big as Billy's deserves to live on in all of us, and it will. I don't know if he'll be beside me, but he'll be in me.

I loved you, Billy.

Greg Manning


---

It is with great sadness that I hear the news of the passing of Bill Bennett. We met over 10 years ago and through his perserverance, Bill managed to pull together a band that was playing the music that was most heartfelt to me in my life - the Rolling Stones. I know that he felt the same way about the music that I did. Through twists and turns of life, people and music move on . . . . . .but way down deep inside, I always believed that we would someday get together and jam again. Its sad to know that I will never be able to say that to him.

I remember how we argued over our own interpretation of the music, but this was Bill's perfectionism. I remember the laughter too, but most of all, I remember how he worked so hard to make the music happen. Had it not been for Bill, I dont think anyone else would have taken the time to put the wheels in motion.

His efforts with the Off wall Street Jam were incredible and I know that he touched the hearts of so many people over the years.

My heart goes out to his family and the people who were closest to him. This is a very sad loss of someone who lived his life thru music and he will be missed.

WIth deepest sympathy,
Marie Panella

Rolling Stones - Time Waits for No One

Yes, star crossed in pleasure the stream flow on by
Yes, as we're sated in leisure, we watch it fly
And time waits for no one, and it won't wait for me
And time waits for no one, and it won't wait for me
Time can tear down a building or destroy a woman's face
Hours are like diamonds, don't let them waste
Time waits for no one, no favours has he
Time waits for no one, and he won't wait for me
Men, they build towers to their passing yes, to their fame everlasting
Here he comes chopping and reaping, hear him laugh at their cheating
And time waits for no man, and it won't wait for me
Yes, time waits for no one, and it won't wait for me
Drink in your summer, gather your corn
The dreams of the night time will vanish by dawn
And time waits for no one, and it won't wait for me
And time waits for no one, and it won't wait for me
No, no, no, not for me


---

Billy,

We'll do this again. But not for a little while. Thank you for this time around, it was fun. Just put the amp on "standby." I loved you this time. I will love you next time, and all the times to come. That's what friends do.

Hank


---

Bill,
You will always be appreciated for your zest for life,kindness and
commitment.
Thank you for bringing out the best in me with your quiet guidance of an
eternal friend and mentor.
You will always be special.. very special.

Texter .V.


---

I joined the Jam before Bill ran it, then took a decade long hiatus, then rejoined last year. I liked it better the second time around, both because Bill ran it so well and because it was a place you wanted to be because Bill was there, with his Cheshire cat countenance and his no-nonsense style and his deep and abiding love for the music and the musicians we all had and have a deep and abiding love for. He got such a kick out of a group of people who had never met before going into a studio and playing stuff they'd known their whole lives and sounding great the first time around -- he tapped into the musical zeitgeist in a unique way, and we were lucky enough that he created a channel for us to swim in together. No matter how good it sounded to me or to the groups I was playing in, or to the audiences of relatives and friends we played to (who of course told us it sounded good even if it didn't), I looked to Bill for honest feedback, and he didn't disappoint: the nicest thing he ever said about Halcyon Days was that we "didn't suck" -- from Bill, that was high praise. When he asked us to play an encore at the end of our set at the Village Underground, it felt like winning an award. I will think of him in his fashion reverse khaki cargo shorts and t-shirt and sneakers on a warm night on the sidewalk in front of the Jam, sitting on one of those dual water hookup things, greeting people going into the Jam and the Orange Bear, and behind his desk with his stack of prepaid rehearsal cards, and introducing Tequila Sunrise at Le Bar Bat and wishing my daughter a Happy Birthday, and will remember his gift for wordplay, and lots of other stuff too. Thanks for playing, Bill.

Russell Makowsky


---

I met Bill not too long ago at a show at Le Bar Bat
through the Steve Marshall Band, one of many bands
Bill played in. From that first night Bill and I
clicked and became friends literally over night. I
had no job, no place to live, no money, and no studio
to record my demo CD. Bill changed all of that. He
took my under his wing, like he did with so many
others because that is how he is, gave me a job, let
me stay at his place for a few days until I found a
place to live, and gave me the opportunity to be apart
of the Jam. I worked only a couple days before this
happened. I remember, I had to leave for the airport
to go to Texas on September 25th. I gave him a big
hug and I said I will see you in 2 weeks...I'll miss
you, not knowing that was the last time I would ever
see him. Later when I heard the news I cried so hard.
Even though I did not know him long but him and I
grew an instant bond. He saw my talent and he helped
me out and I will never forget that. I wish this
world had more people like Bill. As for now, I am
totally lost without him. I guess now I am just
taking one day at a time. I returned back to Michigan
(my original home) for the next 9 days to clear my
head, mourn and remember the good times with Bill. I
know he is still with me...I can feel him in my
presents and that is what is keeping me going and
focusing on what Bill would want me to do and that is
to continue with my career in music. Bill lived to
help people and he is not going to stop doing that.
Bill will be forever in my heart. I miss you Bill.
Rest in Peace.

Justine Blazer


---

Today I went to Bill's wake and it really hit me what has happened... a
vibrant life is gone while still young. Bill-- difficult, driven,
funny, a man of extremes and many colors-- did a lot for so many people
through giving the gift of music. Without the Jam, I probably never
would have started singing in bands and writing my own music. So I sat
there on Bleeker Street listening to the Rolling Stones, looking at
Bill's guitar and feeling sad for the loss but also infinitely grateful
to him. I wish his family peace in this time of mourning.

Thank you, Bill, for all of it. Go rock up the Cosmos...

Amy Wilder
--
so i walk like i'm on mission cuz that's the way i groove
i got more and more to do
i got less and less to prove
it took me took me too long to realize that i don't take good pictures
cuz i have the kind of beauty that moves
and i am trying to evolve
i'm just trying to evolve
Ani DiFranco


---

Bill and I met in 1997 at a stock photography event, a business we were both working in at the time. A series of events happened in the next month that changed both of our lives forever - the company Bill was working for was sold, he got fired (which he used to jokingly blame on me) and he got a call from John Watts asking him if he wanted to buy the Off Wall Street Jam…..the rest, I guess is history

I was a struggling actress who didn't know much about music or running a business, but I recognized passion and understood taking a risk & grabbing onto the gifts life gives you, and so when Bill asked me if I'd join him in his "new life", I said yes. We moved in together and threw ourselves into giving the Off Wall Street Jam wings. .

Seeing all of your familiar names and reading through your postings makes me smile through tears. It's incredible – the impact he had. The Jam is a living, breathing thing – a family - and he will always live through it.

Bill was the only person I've ever known who could honestly say he had no regrets, because he lived every moment as if it were his last. A good way to live.

Love you, Baby.

Emily Trube

KDOK FM, Tyler, TX


---

Bill,
I'm more than sad that you are gone. We met at Le Bar Bat when the REMulators were playing. You gave me your business card, which was a simple guitar pick with your name and number on it. Later, we partied at Club Med together. I loved your passion for life. You taught me guitar. I was in awe with your talent. You were my friend. Your random acts of kindness touched so many people.

Peace to you. Wendy Hilton




[Bill's last email bulletin] [Page 2]